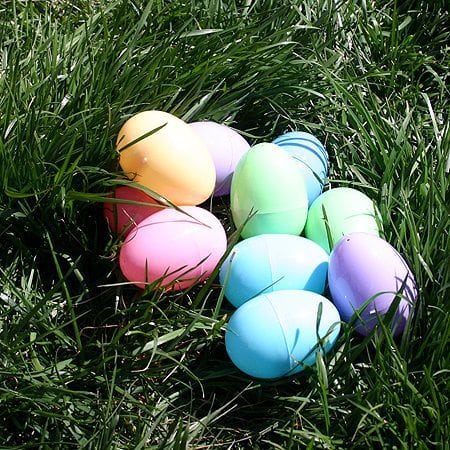 With Easter just around the corner, eggs are in abundance at the grocery store. Eggs are an excellent source of protein and they are packed full of essential vitamins A, E, B-12, and folate. Adding eggs to your daily nutrient intake will help you sculpt those sexy, lean muscles you want to show off in that bathing suit this summer. Try one of these easy egg recipes this week!
The Whey Egg-cellent Shake
½-1 scoop chocolate whey isolate protein powder
1/3 cup of pasteurized liquid egg whites
1 tbsp all natural nut butter
¼ cup of old fashion oats
1 tbsp unsweetened dark cocoa powder
4 oz unsweetened Almond Milk
Ice Cubes
Stevia, to taste
Blend all ingredients to desired consistency.
Egg-cellent Protein Crepes
4 egg whites
½-1 scoop of whey protein powder (vanilla is my favoirte)
1 cup of fresh berries (blueberries, strawberries, raspberries, etc.) OR 1 small banana
2 packs of Stevia
1 tbsp of cinnamon (or if you are a chocolate lover, cocoa powder)
1 tbsp all natural peanut or almond butter
1. Combine the protein, egg whites, stevia, and cinnamon (or cocoa) in mixing bowl and mix until smooth.
2. Pour the mixture in a non-stick pan. Cook for about two minutes.
3. Fill the crepe with nut butter and fruit.
4. Fold over the crepe to hold the nut butter and fruit inside. Cook for 1-2 more minutes.
Easy Egg Frittata
½ cup of broccoli
2 cups spinach
¼ cup of frozen onion and pepper mixture
½ cup of cottage cheese
4 egg whites
1/8 tsp cumin
1/8 tsp cayenne pepper
1 clove garlic
Salt and pepper to taste
1. Preheat broiler. In a large pan, sauté broccoli, onion and pepper mixture and fresh spinach (I use EVOO cooking spray for sautéing).
2. In a mixing bowl combine spices, eggs and cottage cheese.
3. Pour over veggies into an ovenproof skillet. Place under broiler until mixture is set and lightly brown (about 4 minutes).
4. Serve with sweet potato hash browns, oats or whole grain toast to get some added healthy carbs.
Mandy Malool
Certified Personal Trainer
https://bradkolowichjr.com/wp-content/uploads/2020/10/Kolowichjr-logo.png
0
0
MasterKolowich
https://bradkolowichjr.com/wp-content/uploads/2020/10/Kolowichjr-logo.png
MasterKolowich
2012-04-05 00:00:08
2012-04-05 00:00:08
3 "Egg-cellent" Recipes to Help Jump Start Your Day